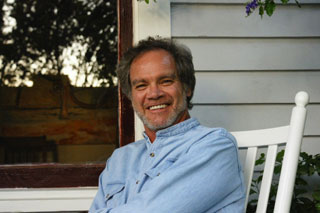 Marcus Mann is a highly popular and renowned contemporary artist who works from a studio inside Houston's prestigious Lyric Centre. Marcus is well know for his sporting and outdoor images. He paints these not because he has to, but because he loves to.
Part realist and part impressionist, Marcus's classic training is apparent in everything he produces. Educated at the University of Houston School of Fine Art, he intensely studied the works of artists ranging from Peter Paul Reubens to Picasso, and ultimately, the sporting art of legendary Texas artist John P. "Jack" Cowan.
His work transcends and includes an incredible spectrum of style and genre. Like every accomplished artist, his paintings reflect those of many others. Yet, he continues to maintain an inimitable style that is as exclusive as it is exceptional.
Marcus says, "The temptation to leave Texas and relocate to a traditional contemporary venue like New York, London, or Paris was virtually irresistible only a few years ago. However," Marcus explains, "not only do I love my home state and my great many friends here, I also believe Houston, being an ever-expanding cultural center, should not be abandoned by those who could notably enhance that expansion at this critical juncture."
"Millions of people from all walks of life and all parts of the world live and work here. I'm just a small part of the equation. But if I am to leave my mark, given my loyalty to my home, my friends, my family and my fellow artists, I'd like to do it here."
"You're dealt certain cards in life," Marcus says. "The way you use them — or sometimes, don't use them — is critical. "If you're lucky, you'll eventually find what you're not looking for."
Light: In glorious abundance or in complete absence, it's the essence of art.